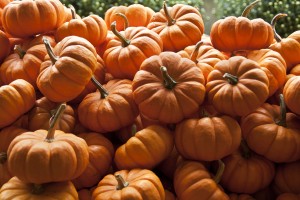 Halloween is only a few days away and people are flocking to their local market to find the perfect pumpkin to carve. Pumpkins are much more than a decoration, because when eaten they contribute to good heart health, improved vision and a trim waistline. Here are some essential reasons you should choose to add pumpkins into your daily diet.
Pumpkins keep eyesight sharp: Pumpkins are rich in caretenoids which the body converts into vitamin A. 1 cup of cooked, mashed pumpkin contains more than 200% of your daily vitamin A intake.
Pumpkins help weight loss: Pumpkins contain 3g of fibre per one cup serving and only 49 calories. Fibre keeps you feeling full longer therefore you eat less.
Pumpkin seeds help the heart: Pumpkin seeds are rich in a plant-based chemical called phytosterols that have been shown to reduce LDL, also known as the bad cholesterol.
Pumpkins can reduce the risk of cancer: Pumpkins contain the antioxidant beta-carotene which may play a role in cancer prevention. The plant sterols in pumpkin seeds have also been linked to fight off certain cancers.
Pumpkins protect skin: Carotenoids have free-radical-neutralizing powers that help keep skin wrinkle free.
Pumpkins can boost your mood: Pumpkin seeds are rich in tryptophan, an amino-acid that produces serotonin which is a key player in a good mood.
Pumpkins help after a workout: 1 cup of cooked pumpkins has more refuelling potassium than a banana – 564mg compared to 422mg in a banana. Potassium helps restore the body's balance of electrolytes and aids in muscle recovery.
Pumpkins can boost the immune system: 1 cup of cooked pumpkins contains nearly 20% of the daily recommended vitamin C intake for women.
This Halloween, reap the rewards of carving a pumpkin for your personal health. Explore mashed pumpkins, or roasted pumpkin seeds as well as many other pumpkin recipes that can be found online.
By Sarah Bamber