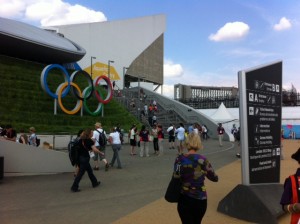 When I announced that I was going to London to participate in the Olympic experience I received a mixed response from many of my friends.
The reactions varied from how exciting and I envy you to…………..I don't think I could stand the crowds and the infamous English queues.
Well, I am pleased to report that this Olympic trip was far better than I could have ever imagined. How could anyone have ever doubted the Brits!
I had recruited a friend of mine who had British roots to join me on this trip. It had all started out with an innocent e-mail from a German friend of mine, asking me if I was attending the Olympics. Initially I thought it would be too much of a hassle and dismissed the idea. After a 2nd e-mail and the suggestion of availability of tickets and a hotel room, I was hooked. Within a short period of time, we managed to arrange flights and tickets to several events including gymnastics, equestrian and swimming competitions. We were on our way.
We arrived in London on Sunday, August 5, 2012. From the moment that we disembarked from our aircraft, we were greeted by friendly and engaging hosts. There was never a moment where we felt lost or distressed. At the slightest sign of appearing confused, a Londoner would approach us and asked us if we needed help. I have never ever seen the city so lively and vibrant. The double-decker buses and the underground trains were crammed full of smiling people looking forward to arriving at their next event. We were ushered in through security lines with unimaginable ease and efficiency.
The cheering crowds were infectious. Each event had its own unique introduction and presentation of the top athletes in their division. The competitions flowed with ease and synchronicity. I kept reminding myself that we were seeing the best in the world and to not take this for granted. The grace and athleticism of each athlete was inspiring. On numerous occasions, people remarked on the increased number of female star athletes. Womens boxing made the headlines with Katie Taylyor of Ireland taking center stage. Kerri Walsh and Misty May of the US won their third gold medal in a row in beach volleyball in the Horse Guards, near the British PM's place of residence. The womens US soccer team dominated and in the aquatic center , Missy Franklin of the US won four gold medals. Katie Ledecky won the 800- meter race. Charlotte Dujardin, competing for only 11/2 years at upper level dressage won the individual and team gold for Britain.
For the first time in history, female competitors were sent by all of the 204 nations that attended. Saudi Arabia's, Sarah Tarr competed in a white headscarf and long sleeved jacket with black leggings. She ran in the 800 m race and although she came in last, the crowds cheered her on.
Each evening, we would return exhilarated and inspired by the days star athletes. After collapsing onto large leather sofas, amongst other eager spectators, we continued to watch the games on the large screen TV in the hotel bar. We all engaged in lively conversation about our favorite athletes and the events we had attended. For five glorious days no one was a stranger.
By the end of the week, we reluctantly organized our belongings and bid adieu to our hosts and new found friends.
Once I returned home I focused my attention on the remaining competitions and reveled in the knowledge that I had partcipated in one of the best Olympics ever!
After an incredibly unique and entertaining opening ceremony, it seemed that it would be difficult to surpass this performance. The closing ceremony turned out to be one of the best rock 'n roll shows and reminded everyone that the Olympics and their games are all about fun. London has created a legacy that will be difficult to surpass. Looking forward to what Rio may bring in 2016. Who knows, perhaps I will be there!