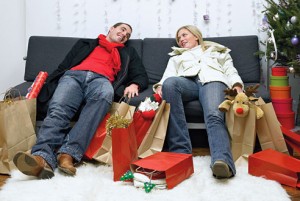 How to Overcome Holiday Stress
December has arrived which means one of the busiest times of the year is here…the holidays! It is a time filled with friends, family and cheer, but often the stress of fitting everything in can be overwhelming. Here are 4 common holiday stressors and how to turn them around into positive, happy and memorable times.
Budgeting:
We often feel obliged to buy the best gift for a loved one, or donate to as many charities as possible during the holidays. The aftermath includes paying off credit card bills that cause financial stress. The solution? Budget holiday spending months in advance and think about putting $20 per month aside to put towards the holidays. Extra holiday expenses include increased grocery bills, charity donations, gifts, alcohol/restaurant bills, gas bills and long distance phone charges to name a few.
Gift Giving:
Exchanging gifts seems to go hand and hand with the month of December. Ways to save with the family include only buying gifts for the children, planning a Kris Kringle gift exchange where a maximum gift price can be determined and donate to a charity of choice in the amount one feels comfortable giving. Sometimes the simplest gifts are the most special, such as hand making a card using a picture that captures a special memory, or even planning an afternoon to share in an activity everyone enjoys.
Eating:
What should be a social and enjoyable time can often cause the most stress over the holidays. The holidays seem to bring an endless array of food and drink, and for those on a diet, or simply trying to stay healthy it can be overwhelming. Helpful hints are to mark on the calendar all the days that will be a "write off" in terms of meals you have no control over. With the in-between days plan to be very diligent of your diet, therefore a bit of indulgence will be enjoyable but not overdone. Don't attend events on an empty stomach and remember to drink lots of water to keep hydrated and feeling full.
Relationships:
Unfortunately stress, anxiety and depression are common during the holiday season. Planning how to divide time between your family and your loved one can come off unfair to family members. The most important part is to do what makes YOU happy. Use relaxation techniques such as progressive relaxation, deep breathing or meditation before attending a gathering you are uneasy about. Remember that past family bickers do not need to be solved in a night but rather look to the New Year to slowly mend relationships. After lunch activities are often the most peaceful and people are less likely to get into arguments.
Stay ahead of the game this holiday season and reduce stress and enjoy the time you spend with friends and family. Before you know it, the season will be over and it will be time to start planning for the following year!
By Sarah Bamber