Although all travelers should plan carefully to ensure health and safety, older loved ones have a few extra concerns to consider.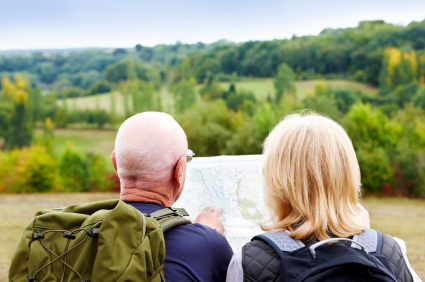 Pre-Trip Preparations
It's a good idea to consult with your travel agent for suggestions – many tour operators specialize in accommodating the needs of elderly loved ones and traveling seniors.
Take time before your trip to research local medical facilities in the areas you'll be visiting.
This is applicable to anyone going on a trip – take time to research factors such as culture, language, and climate. Purchase a guide book and read it before you go.
Organize any equipment or special accommodations you will need beforehand, including seating needs, wheelchairs, and guide dogs.
Should you have significant health concerns, it's best to arrange to go on a package tour.
Consider a Pre-Trip Medical Check-Up
This is particularly necessary for seniors who have pre-existing health issues. We recommend consulting with your doctor for a complete medical check-up before departing on your trip. This is especially important if you have hypertension, coronary heart disease, or have recently suffered a heart attack or undergone surgery.
Be sure to discus any particular health concerns you may have, including dietary changes (and how different eating habits may affect your condition).
Should you have diabetes, you'll want to discuss safely staggering medications to fit a different time zone with your healthcare professional.
Make sure you are up to date on all current vaccinations, including pneumonia and flu shots.
If you are intending to travel to areas where infectious diseases are present, ensure you are fully vaccinated.
Visit any other healthcare providers you consult with regularly, including optometrists and dentists.
Medications & Traveling
It's critical that older individuals plan and travel carefully, taking account for any pre-existing medical conditions to ensure they are well managed. Here are a few specific suggestions that are related to medicine.
Make sure you bring enough medication with you to last the entire trip –many drugs are not available overseas.
Bring a written and signed note from your doctor that details your prescriptions and the medicines you are bringing with you.
Should you purchase medicine overseas, the dosages may be different than the brands you are familiar with.
We recommend bringing enough syringes to last the length of your trip.
If you plan on traveling overseas, obtain and wear a medical alert bracelet or some form of identification that contains medical details of your condition should you need urgent help.
Packing and Luggage
We recommend using a suitcase with wheels, it's easier to handle.
Pack a spare pair of glasses.
Pack a pillbox with different compartments for different days of the week – being away from home may disrupt your usual routine and you want to avid forgetting to take medicine.
Pack a medical carry on kit of necessary – these items should include your regular medications, painkillers, band-aids, and antacids, whatever else required.
Extra TLC for Seniors on Vacations
If possible, plan another day or two to recover from jet lag.
Be sure to drink bottled water only.
Avoid seafood, undercooked meats, peeled raw fruits and vegetables, food buffets, unpasteurized dairy products, and street vendor meals.
If the weather is hot, anticipate many rest breaks and avoid following a jam-packed itinerary.
Be aware that senior cards and identification may not just provide benefits within your own home state—sharing these cards at attractions and museums may get you a discount or cheaper entry.
Additional Safety Suggestions
Be mindful that many pickpockets and thieves consider older people easier targets. To avoid trouble avoid traveling at night.
Do not wear or display valuable jewelry.
Credit cards, traveler's cheques and other valuable items should be worn under clothes, on a belt, or next to the skin.
Consider carrying a fake or "dummy" wallet containing a small amount of cash. Should you be confronted by a mugger, hand over the dummy.
We hope you find those travel tips helpful – please browse our other senior care articles and resources and be sure to share with friends and family. From Better Health for Women, we wish you safe and happy travels.