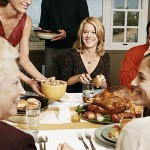 Reap the Benefits of Thanksgiving Dinner
Thanksgiving is a time to be thankful for everything we have, spend time with family and friends and enjoy good food. All too often we forget the meaning and focus on over-eating and feeling unmotivated afterwards when it comes to health.
Here are some benefits of foods served at the Thanksgiving dinner table, and how they can help you stay motivated on your path to a healthy lifestyle.
Turkey:
Choose a skinless white cut of meat for a great source of lean protein with only 102 calories for 3 small slices. Don't be afraid to indulge on a turkey thigh or a piece with skin, just keep it in moderation!
Sweet Potatoes:
These vegetables are rich in fibre and low in calories (125 calories per ½ cup). Choose to season with cinnamon instead of salt which has been shown to stabilize blood sugar levels.
Veggies and Dip:
Support your local farmers and buy fresh, in season vegetables. Serve fibre rich carrots, celery and bell peppers for appetizers. Use hummus or Greek yogurt instead of fatty dips and you will add protein and fibre.
Red Wine:
When choosing a wine pick a Pinot Noir because it is rich in resveratrol, a compound that has been shown to reduce the risks of blood clots.
Gravy:
Gravy is not for the dogs anymore. Enjoy it on your meal as a 1/4 cup only has 50 calories.
Cranberry Sauce:
Cranberries are high in anti-oxidants, vitamin-C and fibre, so add a few spoonfuls to your place.
Remember that Thanksgiving only comes around once a year so it is important to enjoy the holiday. Mix in healthy foods, exercise and time with family and friends to reap the rewards of both physical and mental well-being.
By Sarah Bamber