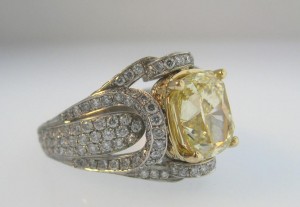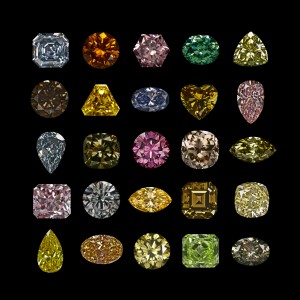 THE FANTASY OF FANCY DIAMONDS
When most of us think of diamond, we think of it as a colourless stone. White diamonds have always been the predominant market but, Fancy coloured diamonds have now risen in status to the pinnacle of the gem world. Their popularity is exploding so much so that dealers often say "fancy diamonds not only speak for themselves but sell themselves".
The term "Fancy" refers to any diamond displaying a distinct body colour other than the common commercial shades of light yellow, light brown and light grey. In these lighter shades, the colour is a detractor, but with a true Fancy the depth of colour is deep enough to become an asset. Exactly how rich and deep the colour is determines the value of the diamond.
ONE MILLION DOLLARS PER CARAT
Fancy diamonds occur in all colour varieties including: red, orange, yellow, green, blue, violet, black, grey, purple, pink, brown and olive. All Fancy diamonds are rare, but this rarity is not absolute. Some colours, and shades or depth of colours, are rarer than others: red, blue, green and pink are the most sought after. In fine colour and quality these stones can cost more than $1 million per carat.
CHOCOLATE, COGNAC AND CHAMPAGNE
This does not mean that all Fancies are beyond your reach. Black diamonds have become increasing popular particularity as accent stones in combination with colourless diamonds. These diamonds are actually less expensive than their colourless counterparts. This is also typically true of the range of browns known more desirably as chocolate, cognac and champagne.
TREAT YOURSELF TO A TREATED STONE
And if your tastes definitely run to the rarer colours, consider buying a lighter shade of the colour or a colour enhanced stone. Diamonds may be irradiated to produce Fancy colours. This is a permanent, legitimate treatment – provided it is disclosed to the buyer and the stone is not sold as a natural colour – and these stones can be very beautiful at a small fraction of the price, although not every colour and shade can be produced. One carat treated blues can cost as little as $5000 with the natural colours costing more than $500 000 to well above $1 000 000 per carat. The popularity of Fancy diamonds is at an all time high and undoubtedly they will continue to be the centerpieces of the world's finest jewellery but, with the variety of colours and colour enhanced stones available, Fancies are not just for haute joaillarie anymore.
DeeDee Cunningham FCGmA, FGA, DGA
www.thediamondcompendium.com