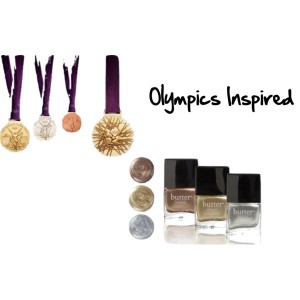 Having come in and out of style a few times now, anything metallic – from shoes to clothing to makeup – is very in at the moment. Perhaps the upcoming Olympic Games have heightened the trend, but it seems as though everywhere you look, people are going for the gold (or silver, or bronze) in brilliant fashion.
In addition to the expected pastels and fluorescent nail polish hues that launched this season, more than a few nail lacquer companies debuted lines centered on the gold, silver and bronze Olympic theme.
The latest phase to this trend is metallic hair. Over the years, metallic hair has popped up occasionally on catwalks and editorials. Perhaps its time has come for it to take over the streets of your city? Enter London England's Bleach Salon (www.bleachlondon.co.uk).
Known as a style innovator, Bleach's stylists are on the cutting edge of all that's new and hip in hair trends. A few moments spent on their website, which works more like a Tumblr account, reveals funky dip dyes and innovative colour jobs.
Founded by Samantha Teasdale and Alex Brownsell, the salon's client list includes Sienna Miller, Talor Momsen, Pixie Geldof and seemingly every it-girl in London. Recently Fashionista (www.fashionista.com) spoke with Brownsell about the latest and greatest in metallic hair. While it is a look she herself is still working on perfecting, she offered the following tips to help you go for the gold:
• Shine:
If you can't get hair super glossy, the metallic effect won't work. Wella Koleston has products that produce a very shiny effect, and be sure to finish off any style with a shine spray.
• Play with color:
If you want a gold look, start with blonde dye then add a bit of brown so it looks "sludgy," says Bronswell. Then lock it in with a shine treatment.
• Draw it on:
If it needs more of a metallic kick, Brownsell and her stylists have used actual markers or spray paint to get a noticeable metallic shine.
• It won't last:
Like all the other hair colors that nature never intended, this is a temporary look, and will last a week or so if you take care of it correctly. This means minimal washing and heat styling.
For a dose of inspiration from Bleach Salon, check out their website www.bleachlondon.co.uk or twitter page at twitter.com/bleachlondon.
By Kim England