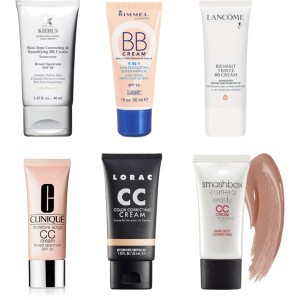 Just when you thought you had your beauty routine down pat, an avalanche of new "can't live without" products have hit the market. If you've stepped up to any beauty counter, you certainly have noticed BB and now CC creams being touted as the next big thing. Think they might be for you? Here's a quick break down of some popular options for skin coverage.
Tinted moisturizer
A great option for sheer coverage and a bit of moisture, tinted moisturizers have been on the market for years and are now a standard offering among most large beauty brands. For those who don't want the heavy all over coverage of foundation on a daily basis, tinted moisturizers are a great option. As an added bonus, many of them now include SPF.
BB Creams
BB usually stands for blemish balm or beauty balm. These creams are lighter than foundation but provide more coverage than a tinted moisturizer with the added bonus of skin regenerating antioxidants normally found in serums. Huge in Asia since the 90's, BB creams were introduced in North America in 2012 and are regarded as an all-in-one replacement for skin serums, sun block, moisturizer and tinted moisturizer. Heavily concentrated, BB creams provide quite a bang for your buck – often a pea sized amount of product is all that is needed.
CC Creams
Very similar to BB creams CC usually stands for "complexion corrector" or "colour control". These creams are billed as doing a better job of addressing uneven skin tones (i.e. redness) than BB creams. Generally they are lighter than BB's but, as with anything, there are variations across brands.
DD Creams
Set to launch this June by nail polish giant Julep is a DD cream that they are marketing as a "Dynamic Do-all" cream. Like BB and CC creams, it offers lightweight coverage and SPF protection. Instead of masking imperfections, Julep is claiming that their DD cream will improve your skin over time.
Foundation
A mainstay in most makeup bags, foundation provides all over coverage in either a liquid or powder form. Unlike BB and CC creams, foundations are offered in a dizzying array of shades and can be mixed in order for customers to find a more exact skin tone match. As your complexion may change from winter to summer, be sure to check your foundation against your jaw line from time to time in order to ensure you are getting the most accurate coverage.
l-r, top row:
Kiehl's Skin Tone Correcting and Beautifying BB Cream www.neimanmarcus.com
Rimmel BB Cream www.nelly.com
Lancome BB Cream www.lancome-usa.com
Bottom row:
Clinique Moisture Surge CC Cream www.saksfifthavenue.com
Lorac CC Cream www.beauty.com
Smashbox Camera Ready CC Cream www.sephora.com