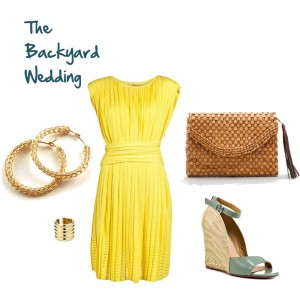 If your mailbox is anything like mine, this year it has been packed to the gills with summer wedding invitations. It seems as though there is a different type of wedding to suit every type of couple. There's the backyard wedding, the destination wedding and the black-tie wedding, just to name a few.
Here's a handy guide to help you figure out what to wear to this summer's weddings.
Backyard Wedding
A cocktail dress or separates are a good fit for a casual outdoor wedding. Forego heels that will only sink into grass and leave you hobbling and opt instead for an espadrille or metallic flat. If buying a new dress, something colourful to match the festive occasion will be appropriate or you can modernize a dress already in your wardrobe with bright accessories.
Beach Wedding
The look to achieve at a beach wedding is effortlessly chic and unfussed. A beach wedding calls for lightweight fabrics in light colours. If you choose to wear black, you won't be inappropriate but you may be the only one in such a dark colour. Look for a sleeveless or strapless style and carry a wrap or cardigan just in case the temperature dips. Pair your dress with a pair of metallic or bright flats. Other accessories you may want to consider include a pair of sunglasses and a wide brimmed hat to ward off the sun's rays. If it is a destination wedding and you are unsure of how well your dress will travel, be sure to pack it separately in a garment bag.
Black Tie Wedding
A black tie dress code traditionally calls for floor length gowns but many people are wearing cocktail length to such affairs which is perfectly acceptable. If you are unsure of what to wear, I recommend looking to your knowledge of the couple's personality and the wedding invite itself as a guide. If you would not describe the couple as being free spirited or fun loving – do your best to stick to the basics while being true to yourself. Added bonus: black tie offers a fun opportunity to do a bit more of a dramatic look with your makeup.
By Kim England