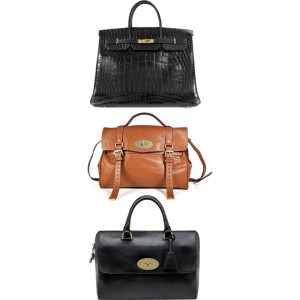 Namesake bags have been prevalent in fashion for decades. Today I'll look into the origins of the names of a few of the most recognizable handbags in fashion today.
A chance encounter between singer-actress Jane Birkin and the CEO of Hermes on a flight led to the development of the Birkin bag. One of the most expensive bags in history, the Birkin bag was created after Jane complained about not being able to find the perfect weekender bag. To some, the Birkin is the ultimate status symbol. An entire episode of HBO's Sex in the City was dedicated to Samantha's pursuit of the eponymous handbag. These days the Birkin is often found perched on the arm of your favourite celebrity or lady who lunches and for good reason – depending on the materials used, the handbags can cost anywhere from $9000 to north of $100,000.
Mulberry was inspired by London It-girl Alexa Chung when designing their Alexa bag in 2010. The bag instantly shot to the top of every fashionista's most wanted list and helped Mulberry to not only survive but thrive during the recent economic downturn. The bag's design was drummed up after the company's creatives spotted a picture of the starlet in a magazine carrying one of their men's satchels. After launching the Alexa in January of 2010, sales of the bag took off. In one week alone in November 2010, 380 of the $1450 (USD) handbags were sold. To prolong the bag's life, it has been re-imagined in subsequent years in various prints and sizes.
This year's signature bag by Mulberry is inspired by songstress Lana Del Rey whose debut album rocketed to the number 1 spot in nineteen countries. The Del Rey handbag will be sold this fall as a part of the line's fall campaign entitled Wild Things.
Mulberry's creative director Emma Hill explains, 'I love Lana's nostalgic references to bygone glamour and the fact that her look is retrospective yet so modern. This inspired us to create a bag that was timeless, refined and elegant, yet with a beautiful practicality that would suit any woman.'
Die-hard Mulberry fans don't have to wait until fall to purchase the new handbag. The Del Rey is currently on sale in limited quantities in three exclusive locations in New York, London and Singapore.
By Kim England
From top:
Hermes 40 cm Black Niloticus Crocodile Birkin www.malleries.com
Mulberry Oak Oversized Alexa Bag www.stylebop.com
Del Rey Black Soft Spongy www.mulberry.com