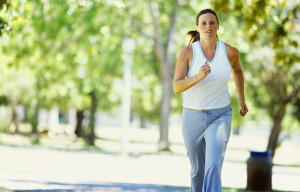 Going the Distance in Endurance Training
Over the past month I have started to run again with the goal of completing a 10 km race by November. About 5 years ago I ran my first 10 km race and I remember the dedication required on a daily basis.
Not only was I fit, but it motivated me to eat a healthy balanced diet and I also had more energy throughout the
day.
I'm in my 4th week of training and I look forward to waking up in the morning for my daily run.
I would like to share some tips on building endurance and motivation for whatever endeavour you are looking to begin, running, swimming, biking, walking, or just getting involved in an activity you love.
Goal Setting:
Set a reasonable and achievable goal. If you don't like running, don't run! Choose something fitness related you will grow to love and is accessible to you. Set a long term goal you will work towards, then go back and put together daily, weekly and monthly goals. Seek the help of a personal trainer in your activity if you are unsure about how to put together a realistic plan.
Timing:
When I ran sporadically I would go after work; and it was indeed that…sporadic! I have the most energy and am very motivated first thing in the morning. For others however it may be after work, or at a lunch break. Test your activity over a few days at different times of the day to see what works best for you and your schedule. You will increase your endurance results by optimizing the time of day you are active.
Endurance Training:
Building endurance doesn't mean long, hard sets everyday. Plan for 1-2 days a week where you can commit the time and energy for a longer run, swim or whatever activity you choose. The other training days should be geared towards shorter runs so you don't put wear down your body.
Try shorter bursts to slower movements to increase your heart rate and keep it up as you train. Also include other activities and weight training in your weekly regime to create variety and to build new muscle groups.
Tips of the Trade:
One thing I cannot run without is music. I organize a mix of songs that will keep me motivated and focused. Good clothing is also important for comfort and feeling great about the way you look (remember mindset can go a long way). Eliminate any clothing excuses when it comes to building endurance, nothing is worse than bad socks or pants that ride the wrong way. I also set points of reference when I run, for example when I'm feeling exhausted I will push myself to a certain mailbox that I know I can reach before giving myself a break. Often times our mind is more tired than our body and we can go further than we think!
Fuel the desire to begin your endurance training as the beautiful weather unfolds.
We all have the same excuses, but developing endurance is guaranteed to increase energy and make you feel great.
By Sarah Bamber