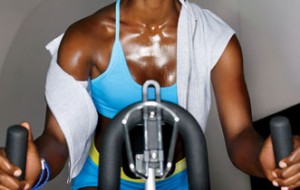 Have you ever thought about how many hands have touched fitness equipment? Or how clean the public shower is at the community pool? With so many women flocking to public places for fitness, it is hard to forget the fact that most places are breeding grounds for germs. Unfortunately, not all people are as germ conscious as you.
We are all guilty of common hygiene faux pas; going to the gym while fighting a cough or sneeze or not washing our gym clothes after every workout. However the easiest solution is to keep your hands and mouth clean and away from any germ breeding grounds. Here are 5 simple tips to optimizing your personal hygiene while using public fitness facilities.
Invest in a quality water bottle:
Metal is the way to go for water bottles because they can be washed thoroughly and even put in the dishwasher. Plastic bottles hold bacteria and cannot stand the wear and tear of daily cleaning and use. Make sure to keep your water bottle on you at all times in public fitness facilities because you may be surprised to know that some people will snag a drink from a stranger's bottle!
Keep equipment clean:
Equipment cleaning sprays and towels are there for a reason. Make sure to wipe down all equipment you will be using before working out and wipe down after. Even bring along a separate towel to wipe down areas because many towels will become wet and hold bacteria themselves over time. A good fitness facility will provide sanitary spray and towels, so ensure you are choosing a facility that puts cleanliness first.
Wash everything you take:
When washing your gym clothes, do not forget about the bag you use as well. Fitness bags are often placed on the floor and pick up anything festering in that area. Bags are also moist inside from the contents inside, which provides a breeding ground for fungi. Put your wet fitness clothes into plastic bags to keep your bag dry, and wash your gym bag at least once a week. Remember any fitness shoes, bands or gear will also need a regular spray down with disinfectant spray and a good wipe.
Remember your feet:
One of the most essential pieces of gear when heading into a public shower or pool area are flip flops. The moist, damp environments are a great place to contract athlete's foot or even a plantar wart which can be passed along from someone else. Bleach your sandals in a 10% bleach solution once and a while, or invest in new sandals more regularly. Remember to keep sandals in a separate plastic bag after every use.
Think of others:
If you are fighting a runny nose or cough, take a rest day or do your workout outside on your own. Passing along unnecessary germs to other members is the simplest way to stop the spread of infection. Open wounds are also a reason to stay away from public fitness facilities and spread infection.
Health and fitness is on most women's minds this summer, therefore staying healthy and preventing the spread of germs and bacteria should be a top priority. Simple strategies are easy to implement and can be used wherever your fitness endeavours may take you!
By Sarah Bamber