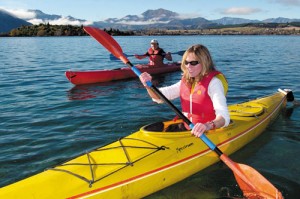 Water Fitness and Safety Tips 101
Some of the most popular summer activities are done out on the water, whether it is boating, canoeing, kayaking or stand up paddle boarding. While enjoying all water sports it is important to plan ahead and utilize all safety techniques. Here are some tips to making the most of your water activities while staying safe.

Know the Rules
Before you head out on the water, plan ahead by packing proper safety supplies. Everyone on board should have a well fitted lifejacket no matter what kind of water activity you are participating in. Look online for proper boating safety regulations in your area and make sure you are aware of any rules when traveling to a new location. A boating license is required in many areas and make sure yours is up to date. By not following the rules out on the water you may face fines just like driving a car.
Life jacket Safety
It is no surprise that life jackets are absolutely necessary while participating in any water activity. Make sure your life jacket is suitable for your weight and fits properly. Every water sport requires a different kind of life jacket so research the appropriate style for your water sport. A water skiing lifejacket is much more form fitted than one you would wear while boating. Go to a specialty sporting store and make sure to ask an associate to help you get properly fitted.
Sun Safety
Remember that there is no shade out on the water unless you are lucky enough to have a canopy. The rays of the sun reflect off the water making them harsher on the body. Always put on sunscreen before heading out on the water and use a wide brimmed hat for protection. Long sleeve shirts and long pants in a breathable and light coloured material are also a great idea if you will be out for a long period of time. Take frequent breaks and find shade when you need to rest to avoid heat stroke or a severe sun burn.
Bring Medicine
Sea sickness is a common ailment while out on the water and unfortunately it can ruin a great day. Plan ahead and bring anti-nausea medication if your stomach cannot handle motion of the water. Motion sickness medications come in relief tablets and some also come in a patch that can be placed behind your ears.
Enjoying activities out on the water is a great way to stay fit and get a natural source of vitamin D. There are many activities no matter what your comfort or fitness level and most of all water activities are great for relaxing and spending time with family and friends. Stay safe this summer while out on the water and pass safety tips onto those around you.
By Sarah Bamber