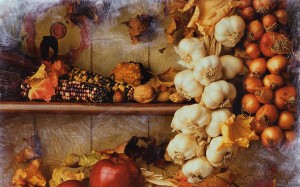 Thanksgiving weekend is approaching quickly and it is a good reminder to embrace the holiday for its true value rather than waiting impatiently in a long shopping line-up. Here are some tips to making this Thanksgiving the most fulfilling for you and your family and appreciating the value of giving thanks.
Buy Local Food: Whether you are cooking Thanksgiving dinner or not, visit your local farmer's market for fresh and healthy local items. Not only will you be supporting local farmers, but you can be assured all items are fresh. The local market will give you an opportunity to speak with the farmers to find out where you food comes from, if pesticides are used and how they are harvested. Stock up on fresh fruits and vegetables for a healthy fall feast!
Nothing to Waste: Thanksgiving is a wonderful time to remember how lucky we are with an abundance of food around us. Use this opportunity to remember that there are many parts of the world, and people in our own cities, that may not know when they will eat next. Make sure to distribute leftovers to family and friends to be eaten, and use extra items such as onions, mushrooms and vegetable peels to make soups, stocks and even breakfast omelettes.
Giving Back: Speaking of abundance, why not volunteer or donate to a local food bank over Thanksgiving? It can be a great way to get your family and friends involved and you will feel great giving back to those less fortunate. Donate canned food items or even help prepare a delicious Thanksgiving Day meal. Remember that when donating or making meals to choose healthy and balanced meals to encourage a balanced lifestyle.
Giving Thanks: It is often small gestures of praise and thanks that go a long way towards a person's well-being. Use the Thanksgiving holiday to thank family or friends for positive influences they may have on you. A simple "thank you" or even a card can go a long way towards making someone's day!
With Thanksgiving on its way, take a step back from the hustle and bustle of shopping deals and huge meals to give thanks for the little things in life that go a long way. Encourage your family and friends to follow suit and you will be developing wonderful habits to last a lifetime!
By Sarah Bamber