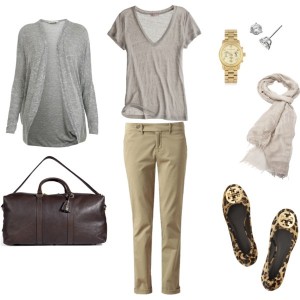 Making summer travel plans? While it would probably be most comfortable to travel in your pyjamas or sweats, sometimes it isn't appropriate to arrive at a new destination looking as though you just rolled out of bed. Here are some tips to arrive in style.
Shoes
A safe bet is to select a pair that is easy to slip on and off. Going through security will be a breeze and it will be that much easier to traverse gigantic airport terminals or dash to your departure gate on time. Toms or ballet flats are sleek options however a fun pair of converse sneakers can be just as stylish. A bonus would be if you can wear socks with your shoes, that way you don't have to walk through security barefoot after thousands of other travellers have done the same.
Wrinkle Free Clothing
Many big box stores are offering wrinkle free products including Banana Republic and Eddie Bauer. If you're more comfortable with a classic look, these items are the way to go and will help you arrive looking fresh pressed and pulled together.
Leaving a cool climate for a humid one or vice versa?
Best thing to do is layer. A sweater and a scarf over a tee or tank top is a safe bet. Bonus: the sweater or scarf may come in handy at your destination should you find yourself in a shop or restaurant with the air conditioning on full blast.
In Flight Comfort
I recommend packing a light weight scarf. On the plane, it can double as a blanket or pillow and at your destination, it can add a bit of style to an otherwise basic outfit. If your outfit didn't allow for socks, a pair can be tucked into your carry on for in flight wear which will make the (inevitably) chilly plane ride that much more pleasant.
Arrive in Style
Flights can be dehydrating. Do your complexion a favour and drink lots of water. Either purchase a bottle of water in the departure lounge or pack your own reusable bottle and ask the flight attendant to fill it for you. Flying on the red eye? Tuck a pair of sunglasses into your carry on that you can slip on to hide tired eyes.
By Kim England
Clockwise from top:
CALYPSO St Barth Ivy Cotton tee www.calypsostbarth.com
Michael Kors stainless steel chronograph watch www.net-a-porter.com
Bony Levy diamond stud earrings www.nordstrom.com
BLUI cashmere blend scarf www.farfetch.com
Tory Burch Reva leopard print calf hair ballet flats www.net-a-porter.com
Vince strech cotton cropped trousers www.brownsfashion.com
Mulberry chocolate small clipper weekender www.stylebop.com
Grey textured cotton cardigan www.missselfridge.com