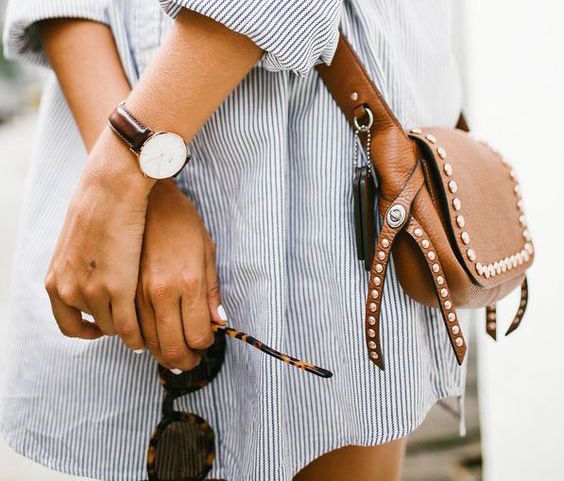 While there have been a few false alarms, it may be finally safe to say that Spring has spung. Each season, designers create entire collections to inspire new trends and, lets face it, a frenzy of excited shopping. While I am almost always in the mood to shop, each season I take a more pared down approach to my wardrobe. As I have mentioned before, my preference is to invest in classic yet modern basics that can transition from year to year and update my wardrobe with a few on-trend touches each season. If I were going to update my wardrobe with just a few items for this Spring, below is the list of my top trends that I would be picking from.
1. Dusty Rose
Flattering on every skin tone, an item in dusty rose is a must this season. From trench coats to purses, shoes or even sunglass lenses, a shot of this hue will instantly update any Spring ensemble. If dusty rose is not your cup of tea, any shade of pink is still a big win this Spring.
2. Updated Oxfords
The classic striped button-down shirt got a serious makeover this season. This year designers were inspired to recreate everyone's favourite shirt by slashing sleeves, adding ruffles, super-sizing the silhouette or, my favourite, creating off the shoulder versions.
3. Neon
It's baaack! Just when you thought some trends were never making a comeback…designers showcased uber-bright fashions for day and night. If you are not ready to jump into the fluorescent waters with both feet (to be honest, I'm not sure I am either), opt for a low-investment piece such as a clutch, piece of fun jewelry or even a neon mani or pedi.
4. Ruffles
Ruffles have been making a comeback over the past few seasons and I am pleased that they are sticking around for Spring 2017. Frills were seemingly everywhere at New York Fashion Week. This season I have my eye out for a skirt with subtle ruffle detailing perfect for daytime wear.
5. Stripes
One of the most wearable trends to wear this Spring, stripes can be as bold or as subtle as the wearer chooses. For a timeless look, stick to stripes in primary or neutral colours. If you are feeling more adventurous, this Spring you will have plenty of options to choose from should you want to step out in stripes of varying colours and sizes (hello sequinned striped shirt dress at Rosie Assoulin).
Happy Shopping!
by Kim England
Image via wachabuy.com on Pinterest