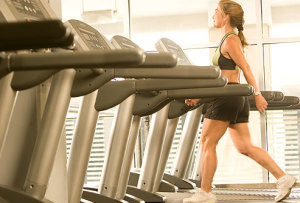 Let's face it – the winter months are hard for everyone when it comes to maintaining fitness. The days are shorter, the weather is freezing and most of all, the motivation to be fit is GONE! I have personally been struggling with this, eating larger amounts of unhealthy foods, exercising less and feeling sluggish in general.
Fortunately, over the past few weeks I have turned this around and am back on track feeling energized again.
Here are some helpful tips to help you find the path of healthy eating and staying motivated to stay fit during the winter months.
Making Healthy Food Choices:
The most important factor that has helped me change my food habits is planning and preparation. I dedicate time on my days off to plan breakfast, lunch and dinners for the week and grocery shop for the appropriate ingredients. I also do food prep such as washing and cooking as necessary. Below are some tasty food options to include in your planning.
Breakfast:
I often prepare and freeze a weeks worth of smoothies. They include protein powder, fruit (frozen berries and a banana) and cinnamon for flavour. In the mornings I simply add soy milk and blend. Other quick alternatives include Greek yogurt and granola with fruit.
Lunch:
I enjoy making big salads (try baby kale, spinach or spring mix) with homemade dressing and a good protein source to stay full. Canned tuna, chickpeas and kidney beans are all great sources of protein low in calories and fat. Remember that tomatoes are a good iron source and avocados contain healthy fat.
Dinner:
Pre-bake boneless skinless chicken breasts to warm up during the week and have lots of frozen veggies on hand. Onions and garlic to add flavour if sautéing.
We tend to drink less water in the cooler months, so think about having decaf teas on hand or adding lemon or lime to a bottle of water for flavour. Store fruits and vegetables for snacking.
Exercise:
Although I enjoyed running all summer, I cannot motivate myself to run outside in the cold weather! I have joined a gym which I really enjoy because of the people, classes and equipment they offer. I make it a point to get to the gym 6 days a week and I now look forward to running on the treadmill before work. I also make it a point to attend 3 spin classes a week if not running that morning. Committing to classes helps set attainable goals and it gives you a reason to leave the house. It can also be a great opportunity to meet people. Other exercise options include a personal trainer to help organize a fitness plan which motivates me to go back again.
It isn't always easy at first. Gaining weight over the holidays, clothes fitting tightly, low energy and feeling "blah" can keep you from doing many things in the winter. However, once you get back on the path of healthy nutrition and fitness you will have more energy and be in a much better mood in the end!
By Sarah Bamber