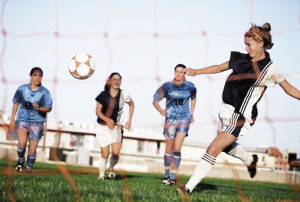 It's hard to think that fall is around the corner but with the change of seasons comes a change in fitness trends across North America. Certain activities that were once done outside now move inside with the weather and individual schedules changing. Here are some great fitness trends to enrol in for fall 2014.
Stationary Rowing: This new trend is similar to spin class however replaces the bike with an erg (rowing machine). Rowing is a full body work-out and targets about 85 percent of muscle groups in the body. It is also high intensity and low impact like a bike class while targeting cardio and muscle building. Look for classes near you with a good instructor to keep you on the right track and motivated.
Animal Flow: It might appear odd at first, however walking on the ground like a lion stalking prey may happen in this workout! Animal flow goes through a series of movements that combines gymnastics, acrobatics and break dancing to name a few. Most movements are done while staying low to the ground and engaging many muscle groups at once. These classes will spark your mind and also encourage self-confidence all while working up a sweat.
Throwback Fitness: If you enjoy working out with a group of people or meeting new people, these classes will not only build muscle and burn calories, but also build a bond with team mates. Throwback fitness classes are fun and based on minor games (games of low organization) such as tag and capture the flag. There is an element of competition integrated into each class and you can always expect to learn and try something new.
Pole Dancing: Although pole dancing has been around for many years, women always shy away from revealing the more sensual side of their bodies. Pole dancing is an excellent cardiovascular work-out that will build muscle and increase flexibility. No matter what your body shape or size it can be done and will also help shape inner beauty and confidence.
Interpretative Dance: TV dance shows continue to spark a craze, but not everyone at home has a natural groove. Interpretative dance classes combine dance workouts with simple movements to encourage students to move freely to the beat in whatever way they feel best. Dance classes involve cardio stamina, flexibility, muscle toning and of course fun.
Core Fusion: Targeting your core muscle groups while incorporating different exercises are the major component of core fusion classes. They help sculpt lean muscle, lose weight and increase cardiovascular fitness all while doing brief high-intensity movements. Core fusion classes can integrate activities such as ballet bars, ropes and gym equipment.
Look for something new this fall that sparks your curiosity to keep you feeling great and on a path to fitness and health!
By Sarah Bamber