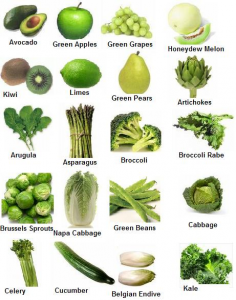 In honor of St Patrick's Day, a celebration of the Emerald Isle and the traditions its people have passed down through generations, we've compiled a list of the best green foods under the Irish sun. Instead of going out and crashing your diet with carbohydrate filled meals and drinks, be sure to consume these festive foods today and reap the rewards. Believe it or not, you'll feel full, happy and ready to spring into life at the top o' the morning!
Kale–
High in fiber and iron, this super food is a staple leafy green that you should add to your diet on a regular basis.
Broccoli–
Filled with vitamins and essential nutrients, this vegetable is good as a snack or side dish to a meat.
Spinach–
Whether its cooked in a soup, side dish or raw in a salad, spinach is higher in fiber and iron like other leafy greens and has a pleasant taste unlike some of its more bitter cousins.
Pistachios–
High in omega 3's, pistachios are a wonderful choice for a snack or to add texture and healthiness to some otherwise bland meals.
Kiwi–
This tropical fruit provides more vitamin C than oranges and plenty of E to replenish your skin and hair with much needed minerals.
Honey Dew Melon–
Besides being delicious, this fruit has as much potassium as bananas and in addition, it can help hydrate you after a workout.
Green Beans–
With their calcium and iron content, green beans support healthy bones.
Replace a meal of bland white fish and white rice with delicious, bright and healthy green foods. Add a sauce of herbs onto any meat and balance the meal with a green vegetable side. For a sweet snack, try green fruits or pistachios instead of crackers and cheese. These green goodies are surprisingly versatile and although March 17th is the official day to celebrate all that is green and merry, you can add these foods to your diet year round.
The amount of research compiled on these vegetables, legumes and fruit is extensive and thorough. For further information on any of these foods, please refer to the following links:
www.cancer.org/healthy/index
www.livestrong.com
www.centerforwomenshealth.com/
www.webmd.com