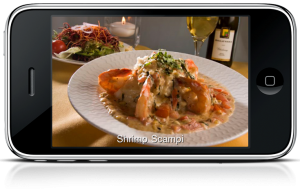 Best Apps for Dining Out
If you're busy at home or in a new city, it can be a challenge to stay true to your healthy eating habits. One quick stop at a fast food chain won't hurt, right? When you've committed to an eating style, you have to stick with it no matter where you go. Never fear, there are wonderful mobile applications you can use to help keep you on track:
Urbanspoon: Need gluten free in Austin? No problem. Regardless of where you've taken a wrong turn, or how lost you are in the city, this application can find you some good eats. Its spinning screen lets you select specific wants or needs and the GPS does the rest.
LocalEats: Based off a popular book series, this helps people graze through their hometown or on vacation by searching through the best 100 restaurants in each city. Not only do you get the crème of the crop, but you could literally find a place to eat it.
VegOut: For vegetarians, finding good food can be a problem if the city you're in isn't known for healthy choices. From Memphis to Miami, if you want to veg out with a good alternative meal, this app is for you.
SparkRecipes: This won't help you eat out, but it sure will help you eat healthy and you make it feel like you're dining out. An endless list of recipes sure to slim your waistline packs the punch of full restaurant flavor as well.
Locavore: Ok this isn't a restaurant, but it is food you're getting outside of your home and it's local! And fresh! To make any meal at home restaurant-worthy, you need the best ingredients and this app will help you achieve that.
It takes a lot to keep to your convictions and eat healthy no matter where you are. But in today's world, all it might take is the right mobile app. This list not only keeps it easy, but boasts full flavor and restaurant style both at home and out on the town.
Rachel Horwitz