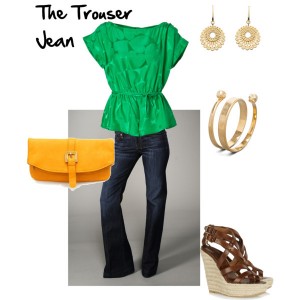 A well fitting pair of jeans is a staple in any wardrobe. While styles of jeans come and go, if you stick to what looks best on you, you can't go wrong. Here's how to wear 'em.
Skinny jeans
Remember when these were a trend reserved for those perfect in proportion? Now everyone has realized they look pretty darn good in a streamlined pair of jeans. I recommend wearing them with a loose top that hits no shorter than your hip crease. Wear with flats for a summery look or pair with heels for a fun night out.
Straight leg
A more universally flattering look than the skinny jean. If the knee to ankle portion is still not doing your leg justice, slide over to a more generous bootcut fit (see below). For those without perfect legs, the slight flare at the calf balances out the rest of the leg. I recommend this style for casual Fridays in the office or out and about with flats or runners.
Boot cut
Dare I say these jeans look good on everyone? They aren't the most trendy fit, however I don't know what is more current than looking good. Unless you are extremely petite, in which case a skinny or straight leg cut may do a better job of showing off your shape, these jeans provide an ideal cut for most people. Wear with everything from flats to heels, with blouses, tanks or blazers – it is really quite difficult to go wrong here.
Trouser jeans
The dressy jean. Often in a lighter fabric than your traditional jean, trouser jeans are cut to skim your thighs with a generous opening at the ankle. These are great jeans to pair with a chunky heel, sandal or wedge – never with flats. Another great pair for casual Friday – try pairing them with a blouse or blazer.
Coloured Denim
One of the easiest trends to spot this season is coloured denim. Many conservative ladies spotted this trend and thought they would pass on it until Kate Middleton was spotted in a coral pair. Sales of coloured jeans in the UK soared immediately. From pale pastels to shocking neons, there is a jean in this trend for everyone. Try pairing them with a neutral. A no fail combo is coloured denim and a simple white button down shirt.
Boyfriend jeans
These jeans are relaxed in the hip and thigh with a tapered leg opening. They are a great addition to a casual look and worn with a slight roll at the ankle. Pair with a tee shirt, blouse or button down and a pair of flats.
By Kim England
Pictured:
MARC by MARC JACOBS Bright Grass Green Big Hearted Jacquard Top www.stylebop.com
Gold Chantilly style drop earrings www.debenhams.com
Alexander McQueen twin bracelet in antique gold www.forwardforward.com
Burberry leather and rope wedge sandal www.net-a-porter.com
7 For All Mankind Dojo flare leg trouser www.shopstyle.com
Jenkins clutch mustard yellow www.mimiboutique.com