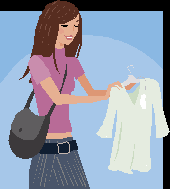 Sales Support
Heading into the holiday season, a lot of retailers have slashed prices to entice you to shop till you drop! Getting something for a discounted price is always great, but how do you evaluate whether it is truly a good deal? Here are some handy do's and don't to think about before heading to the cash register.
Do
Have a list. If you evaluate your wardrobe on a seasonal basis, you'll
have an idea of what's missing and what will soon need to be replaced. By doing this exercise, you'll have an easier time spotting items that will make a great addition to your closet and won't be as easily pulled off track by tempting sales signs.
Buy high quality, natural fibres. This is a great time of year to pick
up items in cashmere, leather and silk. Garments made of high quality fabrics tend to cost more than man made fibres but the trade-off is that they last longer. Be sure to read the care instructions to ensure the longest life possible for your garments.
Don't
Purchase something you wouldn't consider if it were not on sale. Odds are that if you wouldn't at least drool over it at regular price, you don't really love it and probably won't get a lot of wear out of it.
Get talked into a purchase by the sales person. I've come across a lot of amazing sales people with a great sense of style who are helpful and offer good, honest advice. I have also encountered sales people who have tried to talk me into some absolutely hideous purchases. A more reliable alternative is to go shopping with a friend whose opinion you trust. Don't forget whose opinion matters the most – yours! If something feels off, or you can't stand in the mirror without tugging at it…just leave it and move on. No matter what the sticker price is, it won't be worth it.
Bonus
You're guaranteed to get good value out of your purchase if it can coordinate with at least one item you already have in your wardrobe and if you can think of at least two places you can wear it.
Happy Sale Hunting!
By Kim England