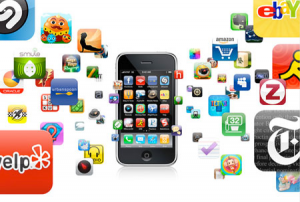 Admit it, you wish there was a simple fix to weight and exercise problems, just like every other busy woman. Whether you're stuck for 12 hours at a job in the city, or preoccupied corralling the children, how do you find time for exercise? The easiest way is to download an app on your smartphone that will help regulate what you eat as well as giving you help with exercise all to keep you healthy and fit. Five applications for smart phones you should try out are as follows:
iBody: This app tracks calorie intake and burned calories as well as blood pressure, cholesterol, and the amount of activity you accomplish each day.
MyFitnessPal: Has a feature that can search foods for calories and healthy eating, including a list of restaurant foods so you can stay on track. This app provides fitness goals and suggestions to help organize your routine.
Yoga Stretch: This yoga specific app is meant for the woman on the run. It helps you see when and where you can get in activity with a busy life. With pose previews and stretches, the app lists a ten minute, anywhere work out.
Women's Health Workout: A very helpful app, this one assists in the planning of your activities according to the area of your body that needs attention. Moreover, it can plan you workout, keep track of exercises and above all, help you lose weight.
FitBit: Easily the most versatile app, this one gives the option to track your calories, sleep, blood pressure, food in-take and exercise all in one program. It will create charts to track progress and suggest goals.
Depending on your interest in keeping track of your exercise and healthy eating habits, different applications will cost varying amounts. Most are available for an average of 2.99, but the one with the best features (FitBit) will set you back $100 for purchasing the on-body monitor. Whatever you choose, these apps offer a world of help to anyone struggling to find the route or time to staying healthy.
http://www.huffingtonpost.com/
Tell us about your favourite fitness apps so we can share them with other readers.
By Rachel Horwitz