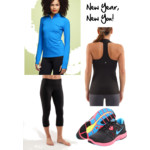 One of the most popular resolutions people make at the start of a new year is to get in shape. Whether you choose zumba, jogging, or yoga the most important thing is to just get moving! Before you start, make sure that you are wearing the appropriate gear for your chosen sport. After that, it is fun to kick your workout attire up a notch. The better you feel about what you are wearing, the higher your confidence level and the better you will perform.
One accessory that I recommend you get a professional's opinion on is your footwear. A professional fitting will ensure that your feet stay in as great shape as the rest of your body. Even if you have problem-free feet, it is reassuring to be fitted by someone who really knows their stuff. Once you find out what kind of shoe works for you, you can make a more informed and confident purchase no matter where you buy your athletic shoes. Two of my favourite places to pick up a new pair are Running Free and the Running Room. Both stores carry a large variety of brands and have very knowledgeable salespeople many of whom lead active lives and have first hand knowledge of the products they are selling. Because salespeople aren't limited to one brand of shoe, you are certain to be fitted to the best style for your feet. The shoe fitting starts with a quick assessment of your feet while walking. Then the professional pulls a variety of styles for you and away you go! I recommend that you try to try on no more than five or six pairs– after that, most people tend to get overwhelmed and are unable to make a definitive decision.
It is pretty hard to see the results of your hard work when it is shrouded in supersized clothing. An overall trend for athletic wear is that it is becoming more streamlined. Wearing all black is an easy way to look chic at the gym. Black exercise pants – whether full length or cropped – are universally flattering. Pair them with a tee shirt or tank top and you'll fit into any athletic environment. If you're looking to step things up a notch style-wise, a huge trend this season is pairing neutrals with neons. If you're intrigued by the trend, I suggest starting with something that is not a large investment such as a tank top or hoodie. The Gap's GapFit line is a great source for this neon/neutral trend. For those who want to make a bigger splash, most athletic shoe brands now have a selection of neutral/neon shoes – just make sure they work for your foot-type!