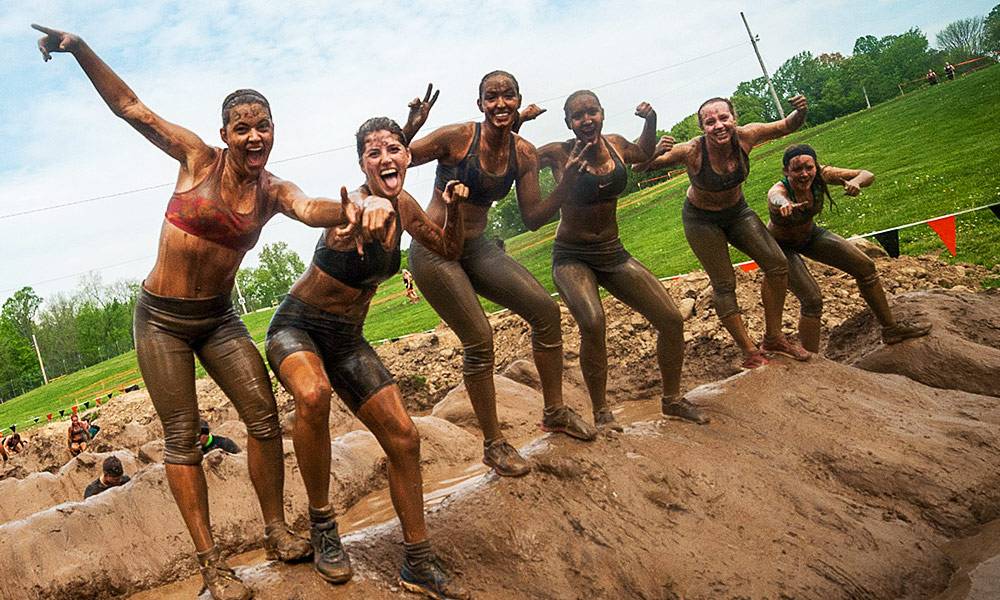 There is nothing like a challenge to make you feel accomplished. My friends and I recently did just that. We participated in a Tough Mudder competition and it was an exhilarating experience! Learn more about what a Tough Mudder is and how you can train and compete in one.
What Is Tough Mudder?
Some of you may be unfamiliar with what exactly is Tough Mudder. Tough Mudder is an obstacle race that is known for its muddy terrain with various climbing, crawling, and water obstacles along the way. The number of obstacles and distance varies, but the races are generally 10-12 miles in length with a different obstacle every half mile. While you can complete the race as an individual, I would recommend using the team option. This allowed us to work together, assist each other and complete all the obstacles together. It was an empowering experience for all of us!
Building Mental & Physical Strength
My friend Stacy struggled on the course. Within the first mile she developed a blister on her left ankle. After another mile she had developed a blister on her right ankle. After a series of steep hill runs the pain became intense and eventually it got to her – she was ready to throw in the towel and give up halfway through the race. Our team supported her and encouraged her, "Stacy you can do this. You've completed other races before and you can finish this one too!". With continual encouragement, she was able to refocus her mind and continue on with the remainder of the race. Our team's assistance helped her push through each of the remaining obstacles and continue to run until she victoriously reached the finish line. She later confided in me she was glad we gave her a "pep talk" to cheer her on. Afterwards, she felt a sense of accomplishment and knew she could take on anything.
Training & Preparation
So how did we get ready for the race? We prepared for Tough Mudder by taking boot‑camp style classes at a local gym and supplementing that training with distance runs. The classes consisted of high intensity interval training, also known as HIIT – which includes push ups, jumping jacks, sprints, mountain climbers, and plate pushes. We also routinely did lunges, planks, burpees within a variety of 1-2 minute exercise stations. Any high intensity interval training you do will help increase your endurance and stamina, as well as body weight strength. It's a good idea to devote some time to running as well so you'll be better prepared to take on a 5-10 mile race.
If you are interested in discovering this great experience then visit www.ToughMudder.com, gather a team and sign up for a race in your local area!