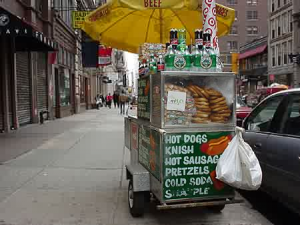 NYC Budget Restaurants
Whether you're in the City for the US Open, Labor Day Weekend or just for fun, be prepared to spend money on your meals. It's no secret that the City is an expensive place, but it is possible to manage your meals on a budget. Wondering how? With a little insider information and know-how, you can navigate around the tourist traps and the high-prices.
Chinatown:
The prices in Chinatown for any meal are incredibly low. There are cheap buffets and all you can eat dumpling houses, dim sum and sit down restaurants that will barely set you back a pretty penny.
Vendors / Food Trucks:
Instead of going to a restaurant for lunch, grab your meal from a street vendor. They're easily half the price and often twice the quality.
Bagel Shops / Bakeries:
You could stick around your hotel for breakfast, but the cheap eats at your local bakery or bagel shop will put that continental breakfast to shame and for very little dough.
Pizza by the Slice:
When you test out the New York style pizza, don't purchase an entire pie. Buy a few slices and you'll find it to be a better deal the more you eat.
Papaya King:
This hot dog shop is world renowned and is not at all the tourist trap you might expect. It has prices so low that a family of four can squeak out with a great meal for everyone under $15.
Katz's Diner:
Another excellent must stop spot is this New York Deli. The sandwiches are so packed with meat that you are getting your full money's worth. They have other specials like soup and mac and cheese that will help you pinch a penny.
Food Tours:
If you want to eat all day and see the sights, take a food tour. Ranging from 20 to 50 dollars a person, you pay into snacking at the best locations throughout the day.
Eating on a budget in the City isn't as difficult as you might think. If you stick to breakfast at a bagel shop and lunch at a vendor or in Chinatown, you're set to spend a little extra for your dinner. And if you rather stay on your budget, buy a slice of pizza as you eat. Enjoy your time in New York City and enjoy that full feeling in your wallet once you leave.
By Rachel Horwitz