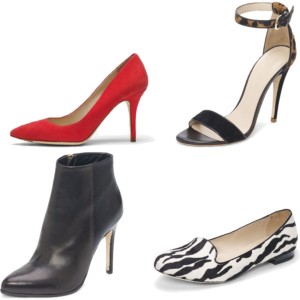 Clothing retailer Club Monaco has long been known for their take on modern classic style translated into chic and simple separates. Fans of the brand or just those interested in shoes with style-staying power will be delighted with Club Monaco's first shoe line which debuted this month.
When describing what motivated the 28-year old company to start their own shoe line, Caroline Belhumeur, senior vice president of women's design, offered the following, "Our customer has always asked us if they could buy the shoes we used in our lookbook and campaigns, so we figured why not make our own collection."
The end result was a 25-style collection of classic styles for Fall 2013 with fun twists such as studded embellishments, gold zippers and fun fabrics. In designing the line, Ms. Belhumeur was aiming for a timeless look, "I wanted the consumer to be able to wear our shoe a decade from now" she explained.
The Club Monaco collection will be in direct competition with J. Crew and a new line, due out early next year, designed by Sarah Jessica Parker. Named simply SJP, the Sex and the City starlet designed her collection in collaboration with George Malkemus, CEO of Manolo Blahnik. Prices are expected to range from $200-300 for shoes and around $700 for handbags. The entire line will be produced in New York City and Europe and sold exclusively at U.S. retailer Nordstrom.
Made in Italy, the collection includes pumps, sandals, ankle boots and flats in materials like suede, leather and pony hair. Prices range from $198 to $395. The collection is currently available online at www.clubmonaco.ca. For those who prefer to shop in person, the line will be soon available at a few New York locations and Toronto's Bloor Street flagship shop.
Opened by Joe Mimran and Alfred Sung in 1985, Club Monaco's first outpost was on Queen Street West in Toronto. The brand spun off into a furniture and home accessories line, Caban, which also had its own storefronts in many major Canadian cities. A few years after taking over Club Monaco, Polo Ralph Lauren shuttered Caban in order to focus more exclusively on the Club Monaco line.
By Kim England
Clockwise from top left:
Club Monaco April pump HYPERLINK www.clubmonaco.ca
Club Monaco Casey sandal www clubmonaco.ca
Club Monaco Mackenzie slipper www.clubmonaco.ca
Club Monaco Autumn bootie www.clubmonaco.ca